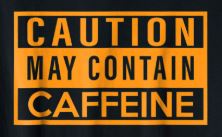 Caffeinated E-Liquid
E-juice to give vaper's a 100% effective energy boost via vaping. Infused with caffiene and taurine, it has been crafted to be felt within minutes of inhalation where, on the other hand, sugary energy drinks and caffeine shots can take up to 15 minutes to take affect.
CAUTION: This product contains caffeine. This product is not recommended for those who are caffeine sensitive. Caffeine can cause irregular heartbeat in sensitive people. Use this product with caution.
Must be of legal age to purchase.
Featured

Price, low to high

Price, high to low

Alphabetically, A-Z

Alphabetically, Z-A

Date, old to new

Date, new to old

Best Selling
Caffeine
Get your hands on the e-juice you have been waiting for! We have caffeinated e-liquid just for you! Savor the richness of caffeine in your everyday vaping habits and cover your day like a monster.
E&B offers you your dream e-liquid containing pharmaceutical-grade caffeine for the safest vaping experience. Get your wake-up punch with a tiny dose of caffeine that works as the perfect energy supplement.
Enjoy caffeine that feels more luscious than nicotine itself. If you want the most effective way to quit smoking, this is it. You have found what you need.
Our caffeine vape liquid is perfect for vape lovers of all kinds. Inhale a blend of taurine and caffeine designed to be felt within minutes, unlike caffeine shots and energy drinks that take long to take effect. There are no added chemicals, so you need not worry about adverse effects when vaping.
Jaw-Dropping Flavors from Reliable Brands
What flavors do you want to break the monotony of everyday vaping? You name it! Choose from an assortment of unique e-liquid blends like Green Tea, Chai Latte, Oolong Tea, and Taro Milk Tea from Vape Tea's product line.
Their products are lab-steeped to draw out the authentic fragrance of different tea types. They use naturally extracted ingredients to retain the originality of your favorite tea.
Brands like The Vape Bean presents premium coffee flavors. Get the authentic taste of coffee with your caffeinated e-liquid juice. Try Americano, Latte, Mocha, Cappuccino, and Hazelnut to satisfy your cravings. All of them are created with real coffee bean extracts.
E&B accommodates everything you love about vaping with the touch of caffeine. Get your daily dose from us today! Check out our collection.